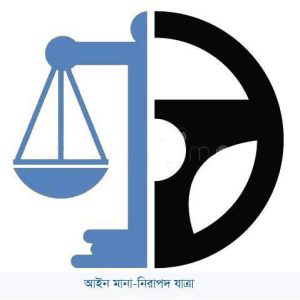 We believe that citizens have the right to travel safely. However, as in other countries, traffic accidents are one of the most concerning issues in Bangladesh. Goal 3.6 of the Sustainable Development Goals is to cut the number of worldwide deaths and injuries from traffic accidents in half by 2023. Road accidents in Bangladesh are linked to a variety of concerns, including law enforcement, infrastructure issues, skilled drivers and assistants, noncompliance with the law, and so on. Aside from Bangladesh's positives, we have a larger water and rail network. However, this network is not interconnected, and we rely heavily on road transportation. We believe that a multimodel transportation system will continue to contribute to a significant reduction in the number of road accidents. We also believe that walking and cycling are two of the most energy-efficient modes of transportation. However, walking and cycling are not any safer in the city. CLPA is collaborating with the government, local governments, CSOs, the media, and transportation stakeholders to ensure citizens' travel safety.   
Walking to school in the city of Dhaka should be made safe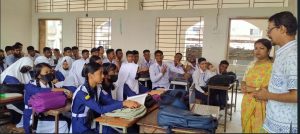 In the Dhaka city, the lack of adequate facilities in the area creates a safety hazard for pedestrians. In recent times, a large proportion of those killed in road accidents are students. According to the 2021 data of Road Safety Foundation, 13 percent of those killed in road accidents are school-college students, 6,284 people have been killed in road accidents in the country, 803 of them are students. Most of the students commute on foot. The main reasons for these accidents are the lack of fixed speed limit of vehicles, insufficient speed limiters, zebra crossings and footpaths suitable for walking in the educational institution area.
The Center for Law and Policy Affairs-CLPA, in partnership with the Global Alliance of NGOs for Road Safety, held a pedestrian safety awareness workshop at Bengal Medium High School in Dhaka's Mohammadpur district and Dhaka Ideal Cadet School on Aziz Khan Road. The awareness program drew approximately 100 kids and staff from both schools.
Speakers of the awareness program recommended keeping sidewalks free of car parking, garbage and encroachment by shops, not raising sidewalks, adequate zebra crossings and speed breakers on the streets near the procession. He also urged everyone to obey the rules on the road.
CLPA Delegation meet with BRTA Road Safety Director
On April 5, 2023, a delegation from the Center for Law and Policy Affairs-CLPA met with Sk. Md. Mahbub-E-Rabbani, Director (Road Safety),Road Safety Wing Bangladesh Road Transport Authority (BRTA), to discuss the issue of ensuring pedestrian safety. CLPA Policy Analyst Kamrunnisha Munna, Policy Analyst Asrar Habib Nipu were members of the aforementioned delegation. To ensure road safety, the Center for Law and Policy Affairs collaborates with the Global Alliance of NGOs for Road Safety working to promote pedestrian safety issue in the Dhaka City. 
Promoting Physicals activity and Healthy Diet should be priority agenda: Public Health experts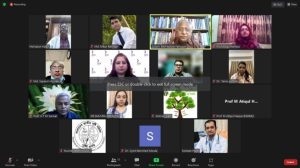 At present, about 67% of deaths in Bangladesh are due to non-communicable diseases such as heart disease, stroke, cancer and diabetes. If all these diseases are not prevented, the overall progress of the country will be hampered. Those outside the health sector must also take responsibility for controlling non-communicable diseases. In this case, the role of local government is the most. This opinion was expressed in a webinar on "Role of Public Health professional in promoting healthy diet and physical activity organized by Bangladesh Cancer Society, Center for Law and Policy Affairs-CLPA, Citizen Network on Friday, February 1, 2022, Twenty-five Doctor and Public Health expert attended the event.  The keynote address was delivered by Prof. Dr. Golam Mohiuddin Farooq, Project Director, Cancer Society. Paper was presented by Prof. AFM Sarwar, Research Consultant, Center for Law and Policy Affairs.
Country wide functional CSOs network formed to strengthen advocacy for NCDs prevention and control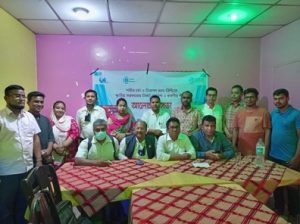 CLPA established a CSOs' Network to NCDs control (called Citizen Network, or C-Net), including 27 organizations in October 2021. To share the policy briefs and sensitize the leaders of the member CSOs on existing laws and policies on healthy diets and physical activity promotion on NCDs control, their role in promoting these and how to conduct advocacy initiatives/awareness-raising sessions on these issues targeting local governments. As a follow up to the meetings, the CSO leaders committed to meet with local mayors, district education officers, district agriculture officers, district play council leaders to hand over a memorandum of recommendations to sensitize them and advocate for regulatory and fiscal frameworks for NCDs control.
In October 2021, the involved CSOs conducted a series of meetings with local governments to share recommendations around regulatory and fiscal measures for NCDs control and promotion of physical activity (e.g., budget allocation and related infrastructures) and healthy diets. Other meetings were conducted with technical health education officers to recommend the inclusion of physical activity at school level, along with the consumption of fresh food, urban agriculture (rooftop gardening), as well as with the sports council. A memorandum with recommendations – prepared by CLPA and shared with CSOs – was shared with at the local and central government level.