It is important to strengthen laws and policies to ensure the supply of fresh vegetables and physical activity to prevent non-communicable diseases such as heart disease, stroke, cancer, and diabetes. Non-communicable diseases account for 67% percent of the country's total deaths. 22 percent of these are premature deaths. If all these diseases are not prevented, the overall progress of the country will be hampered. In this case, the role of local government is the most. In this case, the role of local government is the most.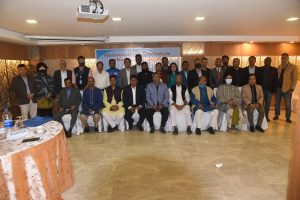 A sensitization meeting was held on Saturday, February 19, 2022, at Lakeshore Hotel, which was organized by the Center for Law and Policy Affairs-CLPA, IDLO, and Citizen Network on the Role of local government to promote healthy diet and physical activity in reducing NCDs. The keynote address was delivered by Professor AFM Sarwar, Research Consultant, and Syed Mahbubul Alam, Secretary, of the Center for Law and Policy Affairs-CLPA. Forty-Three (43) participants (38 M, 5 F) attended the event.
Speakers said that it is possible to play an important role in protecting human health through urban planning. Urban planning includes workways for walking, safety and priority for pedestrians, lanes for bicycles, parks, open spaces and control of free movement of all. Physical activity can be enhanced by making exercise compulsory in educational activities, ensuring teachers and materials for exercise. The Field, Parks and Natural Resources Conservation Act 2000 and local government laws are relevant. It is possible to ensure the benefits of manual labor in the city by empowering the local government.
Architect Iqbal Habib, Joint Secretary, Bangladesh Environmental Movement, Planner SM Mehedi Ahsan, General Secretary, Bangladesh Institute of Planners, Planner Maqsood Hasmi, Chief Town Planner, Dhaka North City Corporation, Mir Alamgir Hossain, Deputy Secretary, Railways Dr. AKM Shamim Alam, Project Director, Union Level Farmer Service Center, Department of Agricultural Extension, Roman Haque, Executive Director, ARK Foundation, Gazi Kamrul Huda Selim, Former Mayor, Manikganj, Former Convener Mayor Alliance for Healthy City, Mr. Faruk Hossain, Mayor, Harinakund Municipality, Mr. Nazrul Islam Mandal, Mayor, Goaland Municipality, Md. Golam Kabir, Mayor, Dhamrai Municipality, Abu Naser Khan presided over the meeting, Chairman, Save Environment Movement, gave welcome speech, Aminul Islam, Head of Program, CLPA.